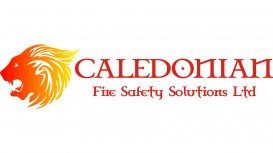 Working together with a team of highly experienced and competent associates we provide support to any business by evaluating existing fire safety management arrangements and where required can assist by providing written fire safety policies, fire safety procedures and deliver staff training bespoke to your business in order to provide a safe and effective working environment across either single or multiple sites.
Caledonian Fire Safety Solutions Ltd also directly provides an independent, expert consultancy service to ensure Passive Fire Protection compliance is achieved at all stages of a premises life cycle.
We have experience working on all types of premises from nuclear construction sites, commercial industrial engineering plants, warehouses, high rise flats, care homes, offices, hotels, public houses/restaurants etc.
Contact Details
Caledonian Fire Safety Solutions Ltd
Marathon House, Olympic Business Park, Drybridge Road
Kilmarnock, East Ayrshire
KA2 9AE
Larger Map
Get Directions
Products

Taken from the Scottish Government Firelaw website:
"Both the Scottish Government and the Scottish Fire and Rescue Service recommend that duty holders who wish to contract the services of external fire risk assessors, seek out an assessor who is third party certificated by a United Kingdom Accreditation Service (UKAS) accredited Certification Body or a similar Professional Registration Scheme."
If you are the responsible person seeking a fire risk assessor it is your duty to establish if they are competent, if they are neither of the above then there is no way to determine professional competence.
Caledonian Fire Safety Solutions Ltd provide professional UKAS Third Party Certified fire risk assessments accredited by Warrington Certification, we are also registered with the professional body "The Institute of Fire Safety Managers" – Nationally Accredited Fire Risk Assessor Register (NAFRAR).
Our experience and expertise as a fire consultancy company make us the perfect choice to perform this task. We have technical knowledge of building safety design and can quickly determine what systems are required to provide our clients with suitable and sufficient safety measures.
Fire Risk Assessment reports from Caledonian Fire Safety Solutions Ltd will provide evidence of the duty holders "Due Diligence" of their efforts of working to ensure compliance to current legislation, protection any risk of harm to life, and also from financial penalties/prosecutions.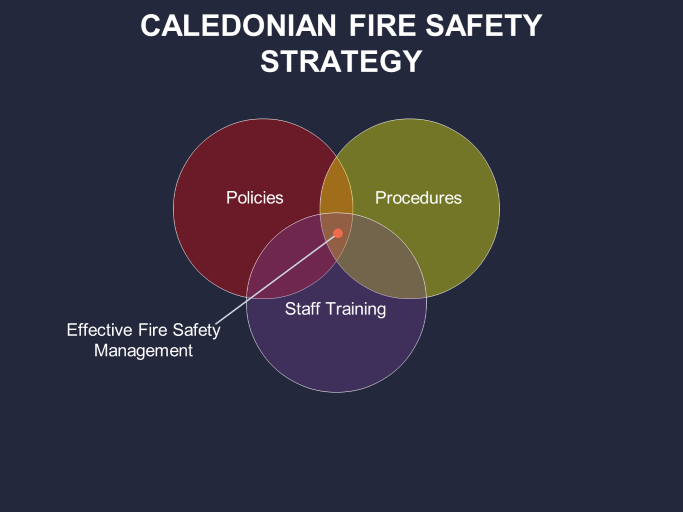 Staff Training.
Caledonian Fire Safety Solutions Ltd will also provide any required training for the relevant personnel including:
Fire Safety induction/refresher training.
Fire Warden/Marshal training
In addition, we can provide any required training and support to those persons with designated roles such as Fire Warden & Fire Marshals who have specific and important emergency & non-emergency duties that need to be managed and recorded.
These include:
All testing, including regular maintenance of fire systems (usually sub-contracted to a specialist company);
Up-to-date, sufficient and accurate fire maintenance and testing records (usually contained within a fire log book);
Co-operation with fire risk assessments to ensure that actions are completed;
Ensuring that if fire evacuations are required, they are carried out; and An understanding of the overall fire strategy for the building.
(All staff training programmes can be delivered including live fire extinguisher training).
Policies & Procedures.
Caledonian Fire Safety Solutions Ltd will support your business by providing as required bespoke fire safety policies and procedures such as:
Fire Policy
Fire Emergency Evacuation Plan (FEEP)
Personal Emergency Evacuation Plan (PEEP)
Fire Log Book
Reviews and Ratings
We do not have any reviews about Caledonian Fire Safety Solutions Ltd available right now.